Why You Should Attend Homeschool Conventions
Homeschooling always seemed odd to me. So I didn't have a background full of awesome stories, I didn't have any idea what "those" people actually did, and I assumed that the children would be sheltered, strange, and unprepared for the real world because that was the narrative I had been fed.
Then I became a homeschool mother's helper. (It's been over a decade ago now) Nothing like real life experience to shake up preconceived notions, is there? As I spent more and more time with this dear family, the idea of homeschooling our "someday" children was planted.
Before you read further, I want to let you know about an awesome giveaway at the end of this post! A Homeschool Convention Readiness Kit and some fantastic curriculum to get your collection started. 
So I jumped in with both feet and went to my first homeschool convention when Mr. T was 3. Yes, he was 3 but I'm an over thinker. Seriously.
What happened when I went to a homeschool convention unprepared? Funny you should ask.
I, feeling incredibly proud of myself for preparing ahead, glided into that cavernous convention hall filled to the brim with all manner of homeschooling delights, glittering with shiny new textbook covers, full of free samples and every manner of homeschool advocates you can think of and I nearly had an attack of the vapors. (For you non-southerners that's hyperventilating.)
In order to prevent you from having that same experience, I have put together these tips and a lovely printable Homeschool Convention Planner that you can get just a bit further down the page.
BUT . . .
(There's always a catch in really good stories.) This catch was that after I took a moment and calmed down (okay, I practically ran out of the hall to the coffee booth and took a good 20 minutes), I remembered I was there to learn more about homeschooling not to plan out my children's path to their doctorate.
And I had the most amazing weekend! I learned more about Charlotte Mason, Montessori, Classical education, parenting boys, and I met the most beautiful moms who were more than willing to share their wisdom. It was truly a home-changing experience.
And each year continues to bless me as a mom and educator and therefore, it blesses my family.
Attending a homeschool convention might be just the thing to refresh, revive, and reboot your home, your homeschool, and you!
Plus you get to view curriculum hands on, talk to the creators, and find new and awesome resources 😉
If you need some help and inspiration but cannot make it to a convention or just prefer to have a one-on-one mentor, I would love to help you plan a successful and gentle homeschool year for your family!
How to Plan Your Homeschool Convention Experience
First off, grab our beautiful Homeschool Convention Planner available in our shop 😉
Practical steps:
Choose the convention you will be attending. We included a list of several below.
Print off the list of sessions and speakers as soon as it is available.
Go through and highlight the sessions you think you want to attend. Choose as many as you like even if they are in the same time frame.
Pray over that list and as the convention draws near, narrow it down.
If you will be shopping for curriculum, get a rolly cart like this one from Amazon now! Your back and shoulders will thank you later.
Book your hotel room! Most conventions have worked out a deal with the hotels in close proximity to the convention, but those rooms sell out fast.
Evaluate your current curriculum to decide if you need to look for something different. Make a list of the ones you are interested in or know you will be buying.
Pray over the sessions again the week before and then fill out your schedule sheet. Don't cling to this, though. You may feel led to attend a session that never crossed your radar once you get to the convention. If so, go with it!
Work out your meal plans for travel and during the convention.
Finalize your curriculum budget. Try to leave a little wiggle room for cool things you find in the vendor hall.
Print off lots of note sheets for your session and add them to a 1 inch binder. Add in some pocket folders for handouts and business cards.
Breathe deep, pack, and enjoy your homeschool convention!
Where are these conventions?
Did you know "homeschool conventions 2018 near me" is a really popular search term? Well, here are several homeschool conferences for 2018 that you can find and I bet at least one is close.
Homeschool Moms Conference is on sale now at the early bird rate and you can attend this one from anywhere! This conference has two tracks that may be purchased separately or you can grab both in a bundle. Homeschool and Working/Blogging tracks to encourage and inspire you in this journey.
Great Homeschool Convention 2018 Locations
Southeast Homeschool Convention
in Greenville, SC March 8-10
Texas Homeschool Convention in Fort Worth, TX March 15-17
Midwest Homeschool Convention in Cincinnati, OH April 12-14
California Homeschool Convention in Ontario, CA June 14-16
Missouri Homeschool Convention in Saint Charles, MO July 19-21
Teach Them Diligently Homeschool Conventions 2018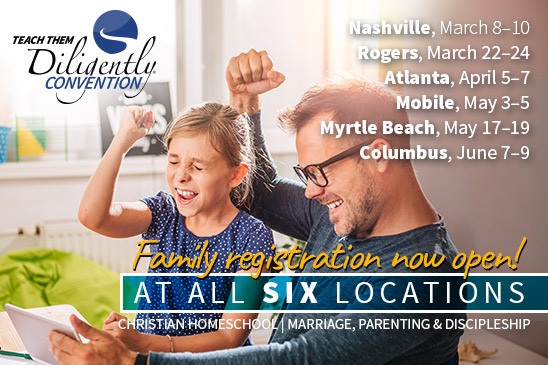 Teach Them Diligently has 6 locations for 2018!
Atlanta, GA April 5-7
Mobile, AL May 3-5
Myrtle Beach, SC May 17-19
Columbus, OH June 7-9
This homeschool convention in Atlanta will be a wonderful treat! I'll be speaking there so come say hi at our homeschool help booth. Plus it's in July so it's a great time to break from your summer and explore new options for the coming year!
The Ultimate Convention Readiness Kit – Giveaway is over, but you can still see the great things included below.
We partnered with The MultiTaskin' Mom, Future Flying Saucers, and Awe Filled Homemaker to bring you this awesome collection valued at over $175 full of homeschool fun to start your convention season with delight!
We are giving one of you our beautiful stainless steel Charlotte Mason Motto Travel Mug and a $25 Starbucks gift card.
Awe Filled Homemaker has donated a $30 gift card to her shop here.
The MultiTaskin' Mom has a Focused Student and Teacher printable planner and $15 gift card to her shop here.
Future Flying Saucers will be sending our winner two wonderful softcover books, Walk This Way and What God is Doing, and the digital poster downloads that go with them!
 Charlotte Mason Motto Mug

 $15 Gift Card to The MultiTaskin' Mom Shop $25 Starbucks Gift Card The Focused Homeschool Student Planner

 The Focused Homeschool Teacher's Planner

 Walk This Way: Ethics and Sanctification Lessons for Kids

 What God is Doing softcover book and printable poster pack

 $30 Gift Card to Awe Filled Homemaker Shop