Description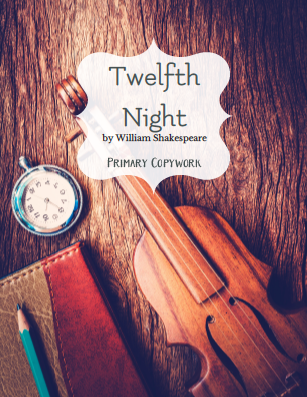 Twelfth Night Printable Primary Copywork
Teaching Shakespeare is a wonderful way to help grow the vocabulary of your child. Copying it down improves penmanship and memory skills.
Other ways to use this copywork set:
Cut up the selections by line and create a puzzle to help with memorization.
Use the copywork selections for brief dramatic recitation
Use the selections and a synopsis of the play to prepare for a field trip to see the full production or a movie day at home to watch a filmed version.
This set includes the selections:
The Captain's speech to Viola
Malvovolio's Greatness Quote
Viloa's Willow Cabin Speech
Duke Orsinio's Song Request

Twelfth Night Primary Copywork
There is a limit of 3 download attempts. If you have trouble downloading the PDF, please make sure you have Adobe Acrobat installed. If you have used all your attempts but have been unable to download the product, email me at hello@laramolettiere.com for assistance.
This is a printable PDF, there is no physical product.
For Co-op or school licenses, please email hello@laramolettiere.com.
Because this is a digital product, we are unable to accommodate refund requests.
Our Favorite Shakespeare Resources
 Slot-Together Theater

 How to Teach Your Children Shakespeare

 See Inside The World of Shakespeare

 Tales From Shakespeare Student Edition

 Shakespeare for Kids: His Life and Times, 21 Activities

&