Enter to win your own Apologia What We Believe set at the end of this post!
An Honest Review of Apologia What We Believe: Who is God?
As a Christian family, we want to instill truth in our children while encouraging them to look for answers and teaching them how to dig into the Bible to find those answers. We want our children to know, understand, and believe God's truth. While we only have the ability to impart the knowledge and help with the understanding, we can till the fertile soil of children't hearts to make them ready for the work of the Holy Spirit to bring them to belief and salvation.
Our children are constantly bombarded with what is in the world and what the world says is right. Whether they're listening to the radio or notice the magazine covers in the grocery checkout line, they are being exposed to ideas and opinions that are opposite of what we're teaching them. Being able to give them the tools to discern Truth from deception as young people in an increasingly secular culture is imperative.
While we can't hide them from the world, we can diligently instill God's Truth into our children, which is why
I'm super excited to share with you about the Apologia Advantage Set™ for the What We Believe series.
This is a sponsored post through partnership with Apologia. We have been compensated for our time, but already owned and used the Who is God? curriculum. As always, opinions are our own and we only share things with you that we believe can benefit your home and homeschool. See our full disclosure policy here. 
What's Included in the Apologia Who is God? Advantage Set™
This set comes with the Who Is God? textbook and Who Is God Notebooking Journal or the Who is God? Junior Notebooking Journal. The grade level for the Who is God? textbook and journal is recommended for 4th – 8th grades while ages kindergarten through grade 3 will benefit from the Junior Notebook Journal.
Of course, you can adjust the journal levels for younger children or older children as needed – Mr. T, though he will be a rising 4th grader, prefers the writing level of the junior journals due to dyslexia and dysgraphia. He also really enjoys the audiobooks and listens to them on his iPad. We've actually listened to the entire book on audio!
We did add the coloring book to our set because Mr. F loves to color.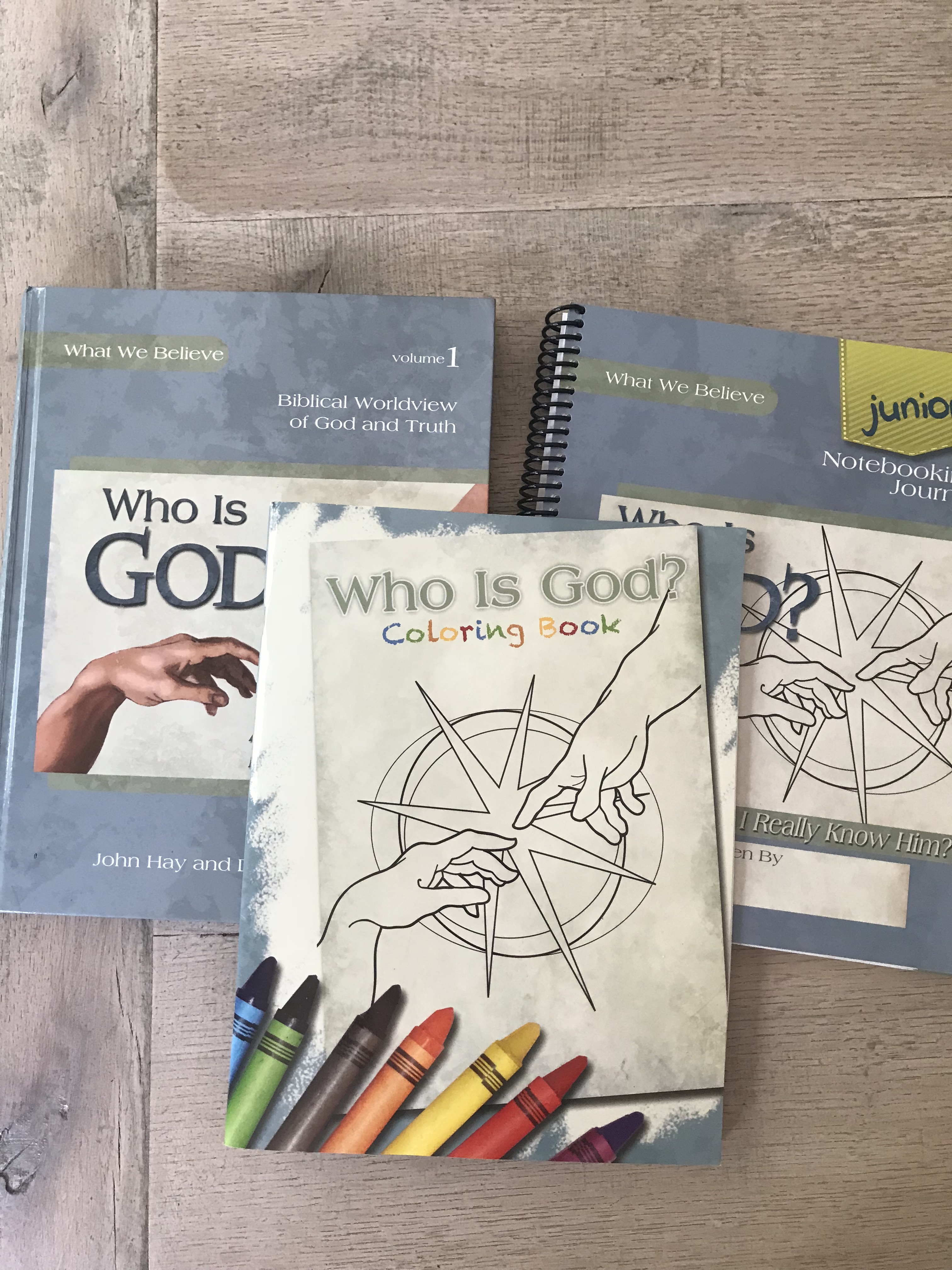 Apologetics Curriculum for Homeschoolers
For our family, homeschooling is one of the best decisions we've made and being able to use curriculum like this one makes it an even more amazing training ground for our children. And training them is what we are called to do.
"Hear, O Israel: The

Lord

our God, the

Lord

is

one!

5

You shall love the

Lord

your God with all your heart,

with all your soul, and with all your strength.

"And

these words which I command you today shall be in your heart.

You shall teach them diligently to your children, and shall talk of them when you sit in your house, when you walk by the way, when you lie down, and when you rise up.

You shall bind them as a sign on your hand, and they shall be as frontlets between your eyes.

You shall write them on the doorposts of your house and on your gates. – Deuteronomy 6:4-9
The Apologia Advantage Set™ teaches so much! Who Is God? (And Can I Really Know Him?) helps to lay that foundation that we all want our kids to know as Christians and followers of Jesus and the notebook journals help to really cement what the children are learning.
A great bonus is right there in the front of the book! An Apologia Who is God lesson plan is written out for you, which makes it even easier to add this into your lessons. They lay it out for each lesson to be divided into 6 days spread over two weeks. The lessons contain the following:
The Big Idea
What You Will Do
Short Story
Think About It
Words You Need to Know
Hide It in Your Heart
Integrated learning
What Should I Do?
Prayer
Worldview Study
House of Truth
Honestly, the Who Is God? (And Can I Really Know Him?) textbook teaches worldview content in a much more approachable way than I'd be able to on my own. I tend to be an over thinker and often make things more complex when I try to explain them or get my tongue tied because I try to say everything all at once. I hope I'm not the only one who is in that boat! It is so helpful to have tools like this to assist in the explanations when we are teaching our young ones.
Who is God? focuses on laying foundational truths. The textbook teaches that God's word is absolute truth. It also teaches that God reveals His truth to His people through His word. Here are some other points covered in this learning set:
He is the one true and almighty God
the Father, the Son, and the Holy Spirit are all one trinity
God created everything
we are God's children and are made to love and to praise Him
God meets all of our needs
Jesus is the only way to God
sin separates us from God
When the world is trying to teach our children what to think and believe, we can build a solid foundation of Truth with the Apologia worldview series. These are excellent tools to have in our Christian homes.
The Apologia Who Is God? Journal
The Apologia Advantage Set™ can be purchased with either the regular notebooking journal or the Junior notebooking journal. We love the Junior Notebooking Journal for Mr. T. You can also purchase additional journals separately, and the coloring book for your youngest learners.
This junior notebooking journal is full of great learning exercises, copywork, beautiful graphics to color, and many more excellent lesson materials. These are set up to be perfect companions to the text studies for your younger students.
Puzzles, activities, and mini books are also included in this journal help to bring learning to life. Learning doesn't have to be boring and Apologia helps to keep the learning fun and scripturally grounded in the curriculum options they provide.
The Apologia Who is God? Notebooking Journal (non-junior edition) is also a great addition, but I've only looked through them at conventions and don't have a picture to share of the inside. I remember thinking I'd like to have one for myself, though. They are very well done!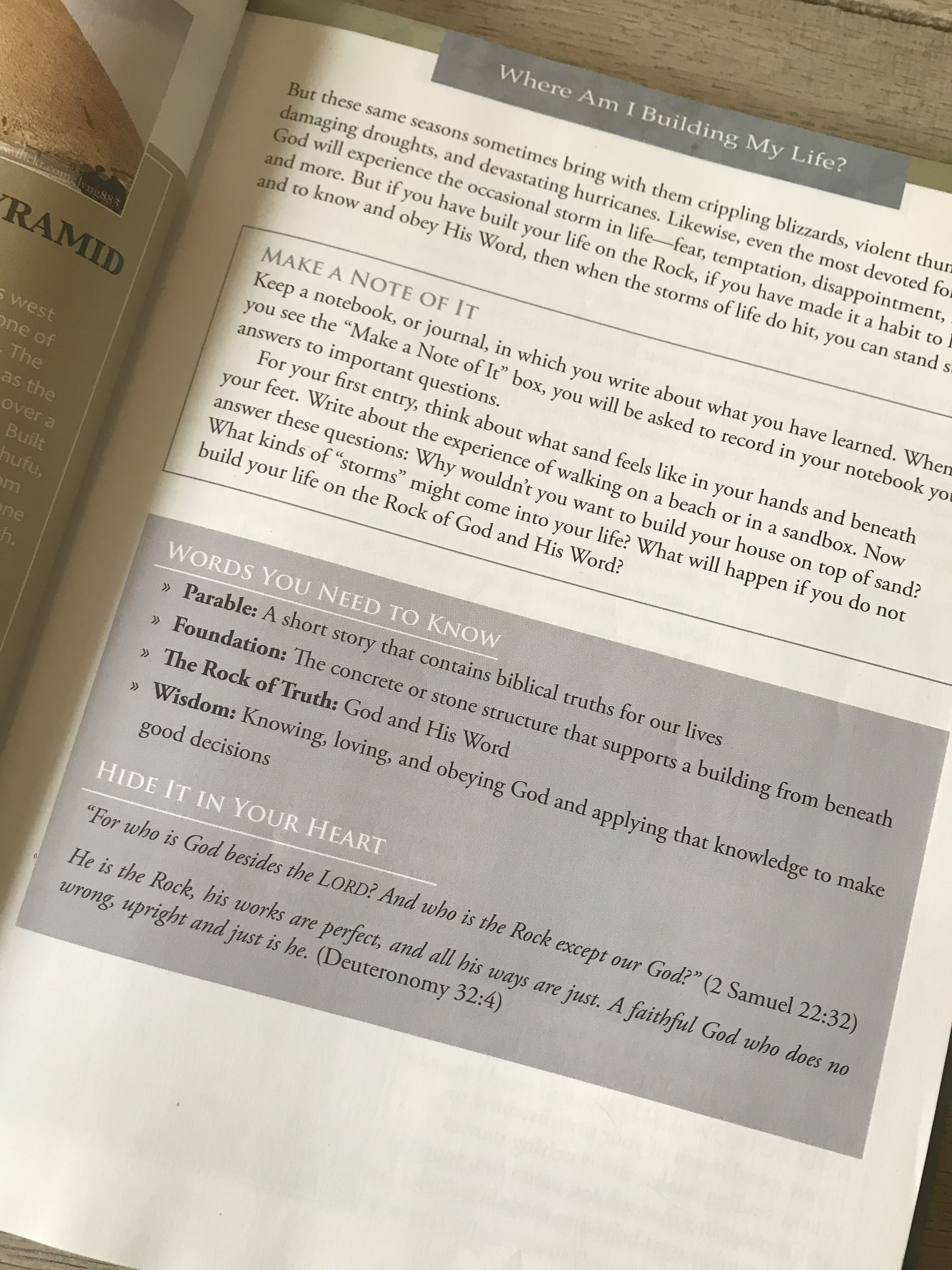 Final Thoughts
We love the Who is God series. It's practical, easy to work through, and lays a solid foundation for the early years when faith is being built. The stories are relatable for even really young kids, and the scriptures tie everything together perfectly.
My children are understanding and holding to concepts I didn't even touch on until my teens. We are having incredible theological discussions. They are learning how to discern Truth from deception and it is incredibly humbling and beautiful to see. I am very thankful for the Apologia What We Believe Series and the impact it is having in our home!
If you're looking for a fun and creative way to speak truth to your kids, while they learn foundational principles of the Christian faith and the nature of God, then the Apologia Who Is God? textbook and notebooking journal sets are just what you've been searching for!
Enter to win your own Apologia Worldview set
Would you like a fun, effective way to help your children develop a biblical worldview? If so, you're going to love this giveaway! Now through Sunday, October 20, you can enter to win your choice of a worldview curriculum from Apologia!
To enter, just fill out the entry card below. You can pick and choose which entry options you complete, and along the way, you'll find some fantastic new homeschool bloggers to follow!
In addition, by entering you will also receive a Digital Swag Bag valued at $60 – so everyone who enters gets free curriculum resources! You can find the details of the Swag Bag below the entry.
It is your responsibility to read the terms and conditions upon entering. Entering this giveaway signs you up for the following email newsletters: The Fervent Mama, Life Beyond the Lesson Plan, Sound Foundation Homeschool, Beyond the Stick Figure, In All You Do, My Joy-Filled Life, The Unexpected Homeschooler, Clarissa R. West, The Art Kit, Peace Creek on the Prairie, Brookdale House, Faith & Good Works, Yellow House Book Rental, Our Crazy Adventures in Autismland, Heart and Soul Homeschooling, Everyday Graces, and Breakthrough Homeschooling email if you aren't already subscribed. The winner has 48 hours to claim their prize before a new winner is drawn. Giveaway ends October 20, 2019 at 12 AM CST.
a Rafflecopter giveaway

Swag Bag Details:
All entrants will receive the Swag Bag (valued at over $45) within 24 hours of the giveaway closing.
In All You Do – A Thanksgiving Bundle that includes two of our most popular unit studies – the Pumpkin Unit Study and the Thanksgiving Unit Study. Both studies have been updated and expanded this year and together include over 65 pages of thematic activities.
The Art Kit – Your kids will have fun practicing their number skills with a Gumball Counting Activity Kit!
Peace Creek on the Prairie – This Daily Bible Study Journal has 11 beautiful pages to help you study God's word. The beautiful purple floral pattern is bound to help you start each day with joy and peace. This is not a guided study for anything specific, but for you to use to study the Bible Scriptures. It is to help you memorize scripture and to dig deeper. It would be great to use alongside a commentary or other book to dig deeper.
Brookdale House – A Bullet Recipe Journal is a wonderful way to keep your recipes handy! It is easy to structure to your needs, yet flexible enough to use any way you like.
Heart and Soul Homeschooling – Color, Cut, and Count through the Seasons
is a fun coloring book with counting pages for each season. Includes pumpkins, apples, acorns, snowmen, flowers, ice cream cones, etc. Great way for kids to practice counting to 20. The shapes can be cut apart to use as manipulatives or pieces for math games. Practice coloring, cutting, and counting skills all in one with this activity book!
Everyday Graces – Learning poetry is such a fun way for our children to learn to write better, express themselves, and to stretch their literary device muscles. In this 13 page pack, your children will learn about acrostic poetry, cinquain poetry, and haiku poetry. Each type is explained and there are pages to practice each.