A Gentle Homeschool Morning Time Schedule
As we've gotten back into the school groove this year, morning time has definitely become our very favorite part of our daily homeschool schedule. It's a routine more than a schedule but there are places for both.
As I shared on Instagram recently, each quarter I create a week-at-a-glance design for our homeschool. It looks something like what you see here. A very large portion of these subjects are covered during our morning meeting.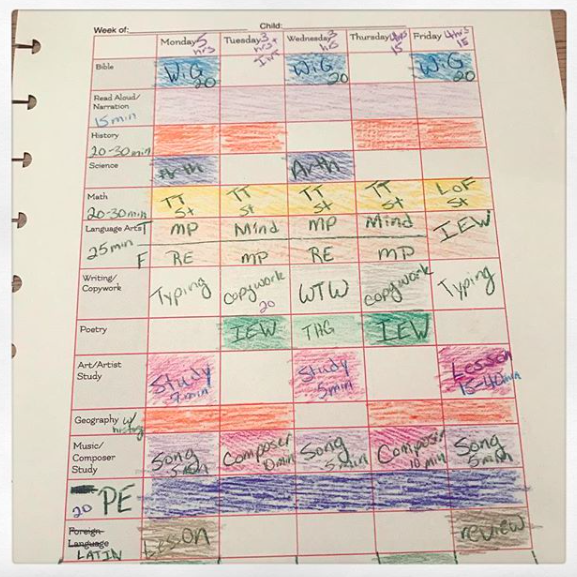 We use The Homeschool Garden schedule to keep all the riches included without overwhelming me. You can also see my favorite colorful pens. Because it's the little things (like bright ink on white paper) that make life more fun.
This is the morning time plans schedule from the Wildflowers session. As we go through the days, I just mark that day as completed on this sheet. It's my homeschool morning checklist, if you will.
Morning Time Subjects
Our total morning time takes 45 minutes to an hour – not including tea times or art lessons – we do those in the afternoons.
A morning prayer (we do this at breakfast)
Scripture study and memorization
Poetry memorization
Music – a hymn or folksong on alternating weeks
Composer study – we read the biography on Tuesdays and listen to a new piece each week
Artist/Art study – we read the biography on Mondays and study a new piece each week
Copywork a few times a week
Geography – a lesson 1-2 days per week and a day to add notes to a geography notebook if needed
Tea Time – this is done in the afternoon on alternating Thursdays
Nature Study – this happens every Friday morning
Handicrafts – This happens one Thursday a month
Art lessons – This happens one Thursday a month
Shakespeare – we enjoy a tale from Shakespeare two times per session
Poetry – we listen to a poem simply for enjoyment every Wednesday
If you're wondering what that leaves that we do not do during morning time, those subjects are:
Reading/language arts
History
Science
Math
Piano
Guitar
Read aloud and read alone time
Homeschool Morning Basket Schedule
We call our attention to the table by lighting a candle and ringing our crystal bell. This helps the boys remember that it is time to learn.
We begin our Morning Time with a morning song. We learned the Doxology last year and on the days we aren't learning a new hymn or folksong, we begin our morning time by singing it a capella. On Monday, Wednesday, and Friday we sing our Homeschool Garden song for that day with the recorded accompaniment.
On Monday we read our artist biography and study one piece of art. Wednesday and Friday we study the same art piece. This isn't quite how Charlotte Mason had art study (you can read about that here), but it is what works for us.
We spend a few short minutes on the art, but I leave our art piece for the week out on our morning time cart so the boys can see it and stop to ponder it whenever they wish.
After the riches, we run the stairs a few times, stretch, get the wiggles out and refill our coffee and juice cups before moving on. The boys, who often want a second breakfast by this point, sometimes have a small snack. While they munch, I read from our current read aloud selection and when I'm finished they narrate back to me what we covered.
Monday, Wednesday, Thursday, and Friday we also do our All American History study during our morning lessons. These lessons take 20-30 minutes depending on how much reading and activities are to be done with that day's lessons. There is a hefty geography element to our curriculum so we get those studies as part of the lesson.
Monday and Wednesday we do our science study, which is currently Arthropods from The Good and the Beautiful. The boys are working on presentations and Daddy is helping them. It's been a wonderful, gentle introduction to research and presentation skills. I love that they are also keeping a science journal notebook.
On Wednesday we also do our Scripture journal. I use my Write the Word journal and the boys use their Fruit of the Spirit study journals. This is in addition to our Who is God? study. Wednesday works well for this because there is also no Homeschool Garden copywork that day. The boys will only sit still and write so much before there is wailing and gnashing of teeth.
Wednesday is also our poetry day with the Homeschool Garden. We listen and recite (a read recitation) some of the poem. On Tuesday and Thursday we use our IEW Poetry curriculum for study.
Thursdays are awesome. Two Thursdays a month, we have tea time with our Homeschool Garden lessons, but we have these in the afternoon. One Thursday a month we have a handicraft lesson and another Thursday we have an art lesson. These are usually done during morning time. Sometimes they get moved to the afternoon, but I try to have all our "lessons" finished by 2 each day.
Tuesday and Thursday we have composer study and listen to our current selection. These are nestled nicely in the membership area of the Homeschool Garden, but sometimes I download the MP3s to my phone and play them from there. We enjoy listening to selections while having tea or doing copywork. The musical selections can also be played in the background while the kids are cleaning and doing chores for some extra exposure to good music 😉
Friday there is nature study! We do a short nature study from the Homeschool Garden and if the boys want to, they add a picture to their nature journals about the nature we study.
Monday and Friday after we are finished with everything else, we watch our Prima Latina lesson in full and review our Latin words and cover the workbook pages. We review the vocabulary randomly throughout the week.
Our morning subjects can take up to two hours. To cover so much, that's not bad at all, but it is also why there are lots of movement breaks. We stand to sing, to recite, and even just to stretch. Generally we can do all our morning subjects and language arts and math by lunch time. Not always, though.
This homeschool morning time routine has been a great way for me to also increase our consistency and keep myself accountable.
What does your homeschool morning routine look like?